All to Play For
All To Play For is a weekly socially inclusive drop-in football programme for men aged 18+ struggling with poor mental health, which has made a significant and positive impact on the lives of participants.
It is open for anyone to join, and completely free.
At most sessions, mental health professionals and local support services are present to offer assistance and guidance for those who want to access it. If they're not there, a member of our team will be available to direct you to the right place if you need help.
---
How can I join in All To Play For?
All To Play For sessions are open to all men aged 18+ living in Norfolk, and free of charge. There are currently sessions across Norfolk, including in Norwich, Great Yarmouth, Thetford and Kings Lynn.
To find a session near you, check below for times and locations.
There's no need to contact us in advance; you can just turn up when you feel like it. However, be sure to get in touch at the bottom if you have any questions.
Open Academy, Salhouse Road, Norwich, NR7 9DL
Kett's Park Football Pitches, Wymondham, NR18 0WP
Sheringham Recreation Ground, Weybourne Road, Sheringham, NR26 8WB
Multi-use pitch, Alive Lynnsport, Greenpark Avenue, PE30 2NB (please wear trainers, not football boots)
This session is run by Alive West Norfolk.
Kings Lynn and West Norfolk
Wellesley Recreation Ground, Sandown Road, NR30 1EY
Watton Sports Centre, Dereham Road, IP25 6EZ
The FDC in Bowthorpe, Bowthorpe Park, Norwich, NR5 9ED
Northgate Community High School, Dereham, NR19 2EU
GOALS Norwich, Hall Road, NR1 2GB
Thursday 10am-11am
Final session 16th November
Breckland Leisure Centre, Croxton Rd, Thetford, IP24 1JD
---
What do participants have to say about All To Play For?
"My mental state is more positive due to this group, it gives me something to look forward to and gives me a sense of purpose."

Mauricio, 29
"Overall, I've enjoyed the "All to Play For" sessions. I've found it lifts my mood and allows me to be social once a week. I found the course has lifted my confidence but there's still a way to go."

Koti, 23
"I am a clinical support worker working in the Community Mental Health Early Intervention Team. It has helped service users build confidence and I feel the session helps to reduce barriers and stigma related to mental health. The session provides so much enjoyment. It doesn't matter what are our backgrounds, job roles, abilities, it is just a group of men all doing something they love and all are equal."

Daniel, 39
---
Insight and data
We've compiled a report on the successes on the All To Play For programme. For more insight or information on the programme, get in touch at the bottom of the page.
---
About All To Play For
When Active Norfolk was approached by the Norfolk and Suffolk Foundation Trust (NSFT) in 2017 about the need to bridge the gap between men suffering with mental health problems and the services that are available, the two organisations partnered together to devise a programme called All To Play For.
The idea was that this programme would offer free football drop-in sessions in Bowthorpe, Norwich for men with poor mental health, whilst giving attendees access to vital support services they may not have been aware of.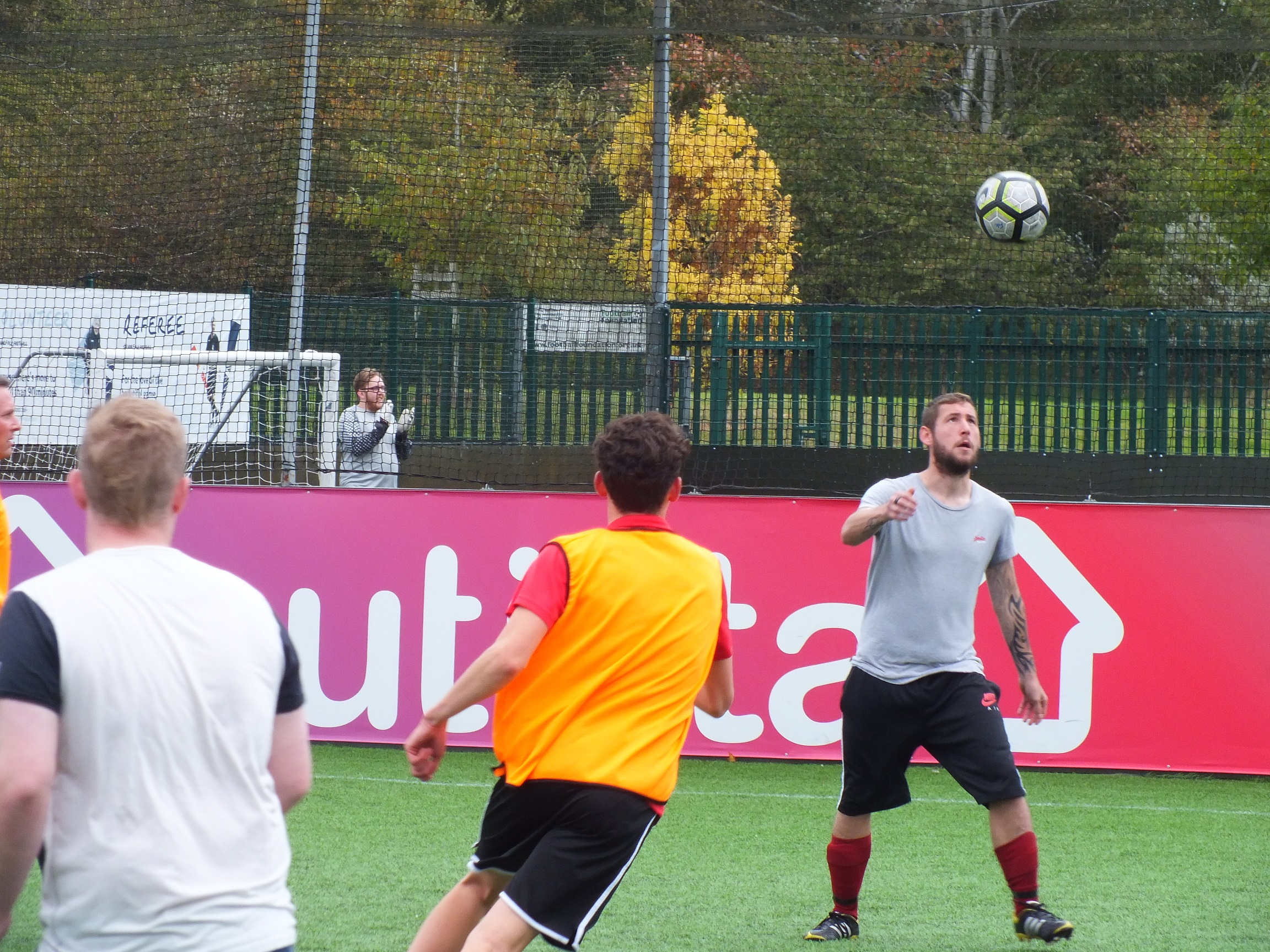 The impact All To Play For has made on participants' lives has been significant, with nearly all reporting an upturn in personal confidence which has, in many cases, led to other positive lifestyle changes.
While the success of the programme has been a lifeline for many men with mental health problems in Norfolk, there is still work to do. Active Norfolk is committed to rolling out the programme across the county to give more men with mental health problems access to inclusive activity sessions and important support services.
The programme has benefited from the involvement of a number of local organisations including the Norfolk and Suffolk Foundation Trust (NSFT), The Football Development Centre, provided by the Norfolk FA and the Premier Foundation.
---
Contact Us:
There is no need to sign up in advance to join in one of the sessions. However, if you have any questions about the programme or want more information, get in touch with Sam by using the contact details below.
Sam Watts
Physical Activity Project Officer
---
Related Pages: