Exercises for older adults and those with health conditions
Exercise should be for everyone. This includes older adults and vulnerable people with long-term health conditions. This belief has always been at the heart of everything Active Norfolk aims for.
We appreciate that various factors can influence your ability to be active including age and any underlying health conditions. This is why we recommend starting off with gentle exercises, which are suitable for everyone to build your confidence.
Being vulnerable doesn't mean you're weak. This could mean you suffer from a long-term health condition such as Arthritis, or even that you experience more common joint problems such as knee or back pain. This can happen at any age, and is increasingly more common. It just so happens that the gentle exercises to get you started are also suitable for older adults to begin building up their strength.
We recommend that those starting out should begin with lower impact, lower intensity exercises, to build confidence and strength and avoid injury. This is particularly important when you have a health condition.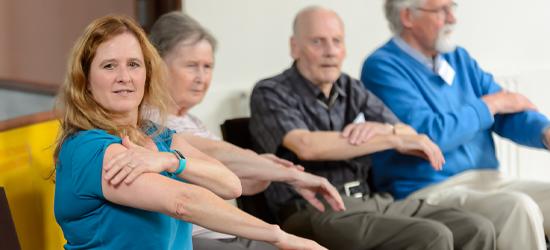 ---
Is it safe for older adults to exercise?
Older people and those with long-term health conditions should aim for the recommended 150 minutes of physical activity a week, just like everyone else unless specifically advised otherwise by a GP or LTC healthcare specialist. For more information on this, visit the physical activity guidelines page.
By being physically active, you'll build up your strength and confidence, as well as your pain threshold, enabling you to slowly increase the amount you can do.
Remaining active can also provide multiple other benefits such as reduced risk of other diseases, leading to increased life expectancy.
---
What physical activity can older adults or those with long-term health conditions do?
You may feel daunted at the prospect of heading straight out on a run, joining a club or going to the gym, and that's fine! The best way to start being physically active as an older or more vulnerable adult is to start small and build up gradually.
As you get more confident in your abilities and strength, you'll be able to do more and more, and try new things!
1, Gentle home circuit exercise videos
We've teamed up with EPIC Norfolk and pulled together some gentle, modified circuits tailored specifically to those with mobility issues, or who might have some trouble standing for long periods of time.
Both playlists are a great way to get moving with minimal risk of injury. Check out a few videos below, and click the descriptions for the full playlists.
2, Specialised exercise classes (online and in person)
There are several charities and organisations who host online classes for you to join in with; many of these are completely free of charge and provide a great opportunity to socialise with others.
A few examples are Age UK's online exercise classes, and Dance to Health classes which are held both online and in-person when restrictions allow. You can even find some of their older adults classes online so you can try in advance before committing.
3, Specific exercises for those with conditions causing joint pain
If you live with arthritis, fibromyalgia or any other long-term health condition that reduces mobility, you may have felt some concern over your ability to do certain exercises.
To get started on your active journey, you might consider doing some specialised exercises designed to increase the mobility of those living with health conditions. Many of these are stretches to get your muscles moving.
For more resources and specialised exercises, visit Arthritis Action and the NHS Arthritis page.
4, Be inspired
Sometimes, all we need to do something amazing is the confidence and motivation to get started. Team Undefeatable was started by We Are Undefeatable and are teams of people living with at least one health condition, with the group goal of being active over lockdown.
These teams met over Zoom and chatted about their achievements, encouraging one another.
Together they took on new challenges and tried various new things, including dance and virtual walking football.
Check out what they got up to, and if you're feeling inspired, why not start your own Team Undefeatable?
5, Not just workouts: Try something different!
Exercise doesn't always mean a workout, or going for a run. It can also be doing various things around the house. Gardening is a fantastic way to remain physically active, as is taking on any smaller DIY household projects you've been meaning to do such as painting.
Even chores such as hoovering, sweeping or laundry count towards your daily exercise!
If you're not feeling particularly energetic, why not try something different? Free creative wellbeing packs are being offered to older people in Norfolk. They'll be sent out twice a month, and each will also be centered around a new, creative theme.
Check out an example pack below, and email [email protected] if you'd like to order more. For more creative wellbeing ideas, you can also check out our mental health page.
---
Other resources to help you get active
Below you'll find links to helpful websites which can provide advice for those living with a health condition or wanting to get more active as they age. We've also listed some apps you might find useful for getting started and tracking your progress.
---
Related Pages: