Dance to Health
Dance to Health is a pioneering older people's fall prevention dance programme that combines evidence-based activities (FAME & Otago) with the creativity, expression, and energy of dance. Each session is coordinated by a professional dance artist to ensure that dance is at the centre of each session.
Dance To Health has helped hundreds of older people remain active and independent across the country. Find out more about how Dance to Health was used to help hundreds of older people in Norfolk to improve their health, have fun, and socialise.
The effects of falls in society
Falls are traumatic for older people and a major challenge for the health system. They destroy confidence, increase isolation, reduce independence and impact life expectancy.
The primary aim of the Dance to Health pro­gramme is to help prevent falls among elderly people. Research conducted ahead of the Dance to Health programme into the effects of falls showed the follow­ing results:
Falls represent the most frequent and serious type of accident in people aged 65 and over
1 in 3 people aged 65+ falls each year in the UK.
10% of ambulance calls are because of older people's falls.
After a fall, an older person is 50% more likely to have seriously impaired mobility, and 10% will die within a year.
Falls destroy confidence, increase isolation, and reduce independence
Falls cost the NHS £2.3 billion per year
Every extra £1 spent on falls and bone health ear­ly intervention services would reduce NHS costs by £2.50.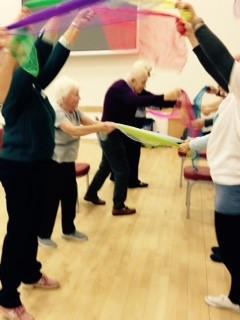 Identifying the need in Norfolk
There are 213,000 people aged 65+ of Norfolk's 892,000 residents, meaning that nearly a quarter of Norfolk residents would be eligible to benefit from the programme, and from the research and insight arising from it.
The largest increase in the local population by 2026 is anticipated to be in the older age bands, so there is a long term need to identify what prevention work can help support older people and reduce pressure on local services in the years to come.
We were part of a Falls Prevention Steering Group that was created to identify priority areas for preventive work, which included physical activity. We were asked to lead the Physical Activity Falls Prevention Sub Group, acknowledging the importance of physical activity in preventing falls.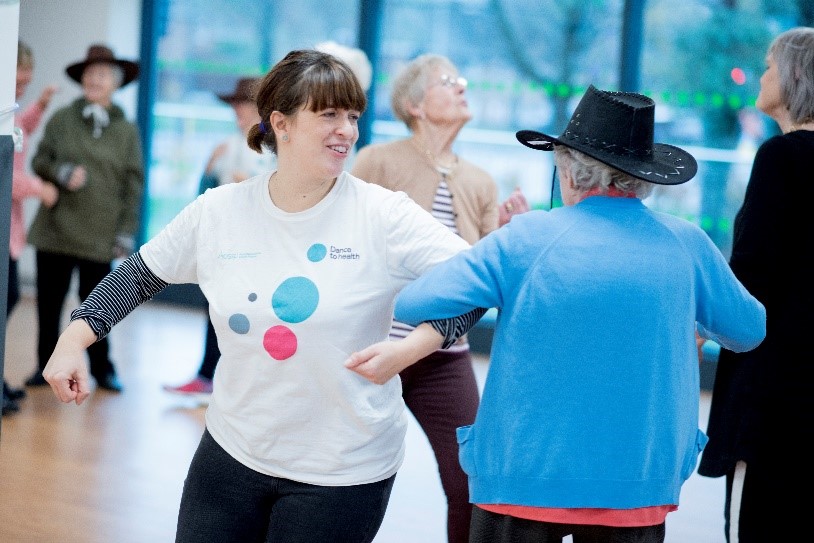 As part of this group, we identified Aesop's Dance to Health programme as a viable and attractive option to support falls prevention in Norfolk's older population. We partnered with Norwich Clinical Commissioning Group to source £30,000 of combined funding to bring the programme to Norwich to benefit elderly residents.
The programme delivery
Dance to Health launched in Norfolk in January 2018. Since then 309 sessions have benefited 132 participants in Norwich, with six Dance Artists from DanceEast delivering the programme aided by 106 local volunteers.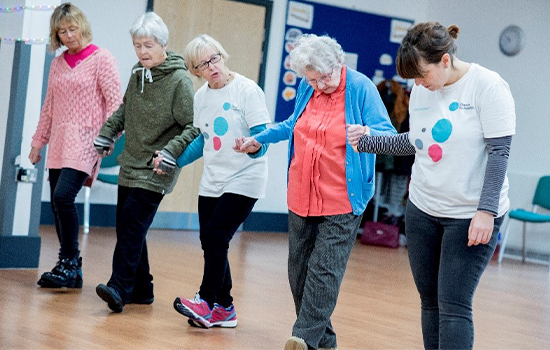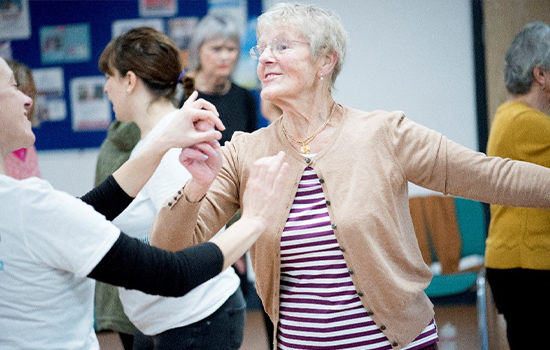 Dance to Health sessions ran weekly in Norwich in three venues: Harford Community Centre, Roxley Hall and Norman Centre. In co-operation with Aesop, a social welfare charity, and local dance school Dance East, we supported the Dance to Health Project Officer in setting up six sessions in the Norwich area, identifying suitable local facilities and introducing the Project Officer to relevant local partners.
The Dance to Health sessions are wonderfully uplifting, not only for the members but for anyone observing. It's clear to see that the groups have succeeded in creating a sense of community and connection which is shown on members' faces throughout.

Stella Sheldon, Age UK Norwich Community Outreach Officer
Impact of Dance to Health
Participant feedback has been overwhelmingly positive about the sessions:
Participants from a number of groups identified the social element of the sessions as a key factor in their repeat attendance.
Certain members of the group reported on their own loneliness and how Dance to Health had given them somewhere to meet new people, per-haps in a similar situation, and develop personal relationships.
Participants reported on increased confidence in their movements and independence, which they attributed to the effects of the Dance to Health programme.
While some participants reported they preferred the dance elements of the programme to the physiotherapy elements, the group recognised the importance of the combination of both in improving their physical health and independence.
When asked about how the programme had helped participants deal with existing pain, some reported an initial increase in pain in some ar-eas of their body due to unfamiliar movements. However the majority of participants identified a reduction in pain as a positive aspect of the Dance to Health Programme.
Participant profile
Pauline, Norwich
Pauline is a retired music teacher, was a regular dog walker and has done a lot of dancing in the past. Pauline joined Dance to
Health because of issues with her upper body. Pauline has arthritis in her back and had a frozen shoulder. She began to feel
the benefits quite early on and quickly saw improvements. Now she finds that her daily activities are much easier, including
carrying bags of shopping, and she can still do some gardening.
Pauline was concerned that Dance to Health would worsen her arthritis but she hasn't felt any adverse effects. In fact she
never has any problems with her back when doing the exercises. She does Dance to Health homework exercises every
morning. These make a huge difference to her movement, she generally can't move too well until she's done them. She feels
so much better now and can do much more.
When I started with Dance to Health…my upper body wasn't so good. At one time I couldn't een lift a cup of tea with my right arm. Now I can lift the teapot to pour the tea out. I can also reach around my back to fasten my bra, which I couldn't do. It's all due to the exercise I do now. The best part I think is the social outcome. This group is so friendly, we are so happy and look forward to meeting each week

Pauline
Read the full evaluation and report