Falls Prevention
Building activities that maintain strength, balance and flexibility into your lifestyle can help to reduce your risk of falling.
As we age, adopting an active lifestyle that includes these kinds of activities, whether through exercise classes like yoga or hobbies such as gardening, will decrease the risk of a fall.
Our Falls Prevention home exercise programme is suitable for those who are at moderate to high risk of falling, who have had 1 or more falls in the last 3 months or have a high fear of falling. Read on to find out more about the programme or click the button below to jump straight to the videos.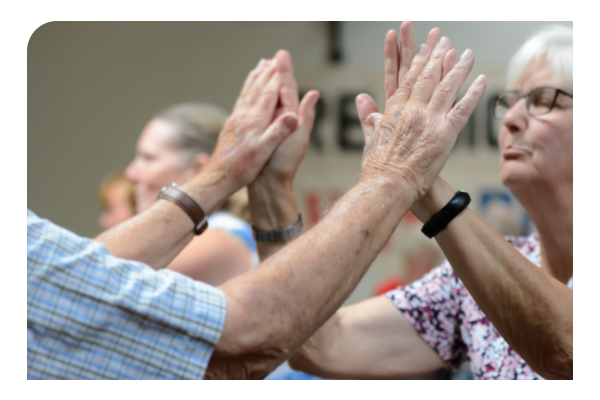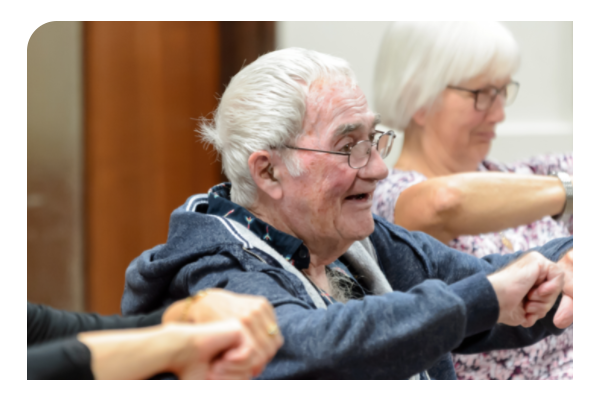 ---
Falls Prevention Programme: Where do I start?
The aim of these sessions is to introduce steps to reduce the risk of falling and improve the health and wellbeing of those taking part. They are split into three levels:
The exercises in Level 1 are to be performed seated. We recommend that you complete Level 1 for 8-10 weeks (or longer if you don't feel ready to progress) before progressing to Level 2. During the 8-10 weeks you can increase the number of repetitions for each exercise. This will enable you to progress to the Level 2 video.
The Level 2 exercises are performed standing but using the support of a chair to aid your balance. Level 2 also introduces Backward Chaining, which is the method we use to get up and down from the floor. Level 2 should be followed for 8-10 weeks or until you feel ready to complete Level 3. Backward Chaining can be introduced after completing 4-5 weeks of Level 2.
The Level 3 video is suitable for those that have either completed at least 8 weeks of the Level 2 video and/or have a low to moderate fear of falling. You should be able to complete the Backward Chaining movements from Level 2 on their own before progressing to Level 3 where we do some floor-based exercises. Although we are progressing to not needing the chair support, you should always have a chair next to you in case you feel off balance.
For the Resistance Training section of the videos, we have used bands for most of the exercises. If you don't have access to any bands then you can use small weights or tins (soup, beans etc) instead for some of the exercises.
Ensure that you use a chair that is firm and steady that you can get in and out of. The floor area around you should be clear and not slippery. Please don't participate if you are feeling unwell or are recovering from a fall.
---
Falls Prevention Level One
Start with this programme for 8-10 weeks.
Falls Prevention Level Two
Move onto this programme for 8-10 weeks.
Falls Prevention Level Three
After completing the first two levels, move onto level three and continue with this programme going forward.
---
Looking for more?
Below you'll find a Moving Medicine guide on the importance of physical activity for frailty.
If you're looking for more resources, check out our section for Vulnerable and Older adults where we have home exercises tailored to all ages and abililties. There are also listed organisations and charities who can further support you in your active journey.
---
Contact us
If you need help with the falls prevention programme or getting active, get in touch and our team will be happy to assist.
Ryan Hughes
Development & Relationship Manager (Health)
Older people's health and activity lead
Cancer