Updates and Opportunities for local schools
Funded support to help all young people improve their health and mindset in order to FLOURISH
Active Norfolk have a funded role to support schools to use physical activity as a tool to improve outcomes. This means we can directly help your school overcome challenges to getting pupils more active, and broaden your understanding of how physical activity can help with brain function, development and mental health and wellbeing. We can also help you ensure opportunities to be more active are targeted towards those pupils that can benefit the most.
Simply put, we want to help schools embed physical activity across their offer so that leading a healthy and active lifestyle is 'just what kids do.'
We can:
Support all school staff to use physical activity within interventions
Help identify where improving lifestyles can improve outcomes
Help align the physical activity offer to contribute to the whole school priorities.
"I have so much energy. Break time isn't enough for me, but doing more activity helps me use it up so that I can concentrate later"

Year 6 Pupil
We know that happy, healthy children are more likely to learn. Physical activity can help tackle things like behaviour, attendance, anxiety, confidence and self-esteem, concentration levels and social skills – all the things that worry us about those most vulnerable.
Jo Thompson, Development Officer for Education has dedicated capacity to help schools through advice, guidance and training, as well as signposting and bespoke support. This is not to just help improve PE and School Sport; it can also help schools identify where their offer can be targeted to meet the needs of the pupils most at risk of an unhealthy lifestyle.
To contact Jo, simply email [email protected]
New case study released showing the benefits of local school involvement in Big Norfolk Holiday Fun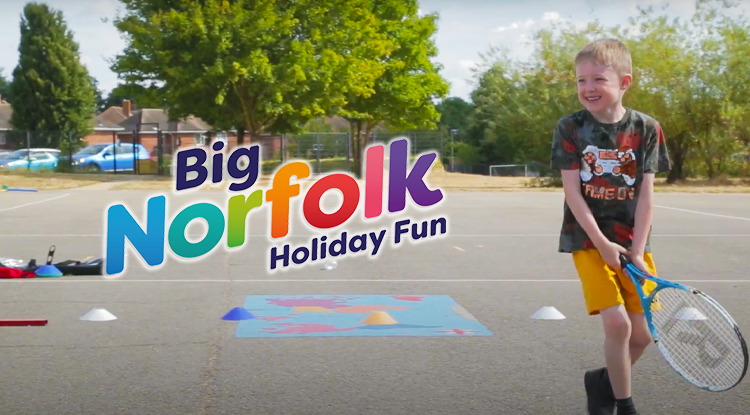 Big Norfolk Holiday Fun (BNHF) is a programme designed to help children and young people in Norfolk get active and have fun over the holidays. The programme is Norfolk's response to the Holiday Activities and Food programme and makes a difference to the lives of children who could benefit most.
The aim of BNHF is to encourage children to be more active over the holidays. It also plays a role in helping young people to understand the role physical activity and nutrition has on health and it can really support their return to school life
Our most recent case study follows Tuckswood Academy, and shows first-hand how school involvement can improve the programme for local children and young people.
We're always looking for new schools, clubs and organisations to get involved. If you'd like to get involved, you can do so in several ways. You can support through helping us to promote the programme within your school to pupils. You can also sign up to act as a host, and lend your facilities to other providers in the local area over the holidays. Finally, you can sign up as an activity provider and receive funding to put on your own activities over the holidays.
If you have any questions, please email [email protected]
Active Lives Survey 2022-23 launches to schools
The Sport England Children and Young People Active Lives Survey is in its 5th year now. It provides schools with a report of their pupils' levels of physical activity, physical literacy, swimming proficiency, wellbeing, self-efficacy and social trust.
Schools who participate will receive a bespoke report outlining these results and will provide evidence and insight into how it engages its pupils in sport and physical activity.
This data can help inform your approach to PE, sport, physical activity and help ensure evidence-led decision making around the PE and Sport premium, giving a clear rationale for spend as well as an opportunity to demonstrate impact.
Each term, schools are randomly chosen to take part although the survey can also be completed voluntarily.
For more information contact [email protected]
Keep up to date with the latest information: follow us on social media
Find out and keep up to date with opportunities and ideas to get your pupils more active both inside and outside of the school day. Follow us on:
You can also sign up to our e-newsletter to receive regular communications straight to your inbox.