Big Norfolk Holiday Fun: Information for Schools
Thank you for taking part in the Big Norfolk Holiday Fun programme!
We've pulled together information for schools to help you support your students in getting involved.
Remember, this year there is no HAF code, so you will not need to request this from the team.
On this page, we've listed information about how the booking process will work, as well as a free downloadable communications toolkit for schools which we'd encourage you to make use of.
Find out more about:
---
How will bookings for Big Norfolk Holiday Fun work this year?
All bookings and providers are listed on the EveryMove website.
Parents will be asked to create an account on EveryMove to book their children onto activities. As there is no code in use this time around, parents will be asked to confirm whether their child is eligible via a form at the point of booking. You will not need to provide anything for them to do this.
You can check out the EveryMove website and all the activities on offer below.
---
What free spaces are available for students?
Free places are available for students that do not receive free school meals, but could be described as vulnerable or in need of a free place.
These may include:
Young Carers
Refugees
Children in care
Children with a social worker
To refer a child you think would benefit, please contact [email protected] and someone will get back to you to discuss this.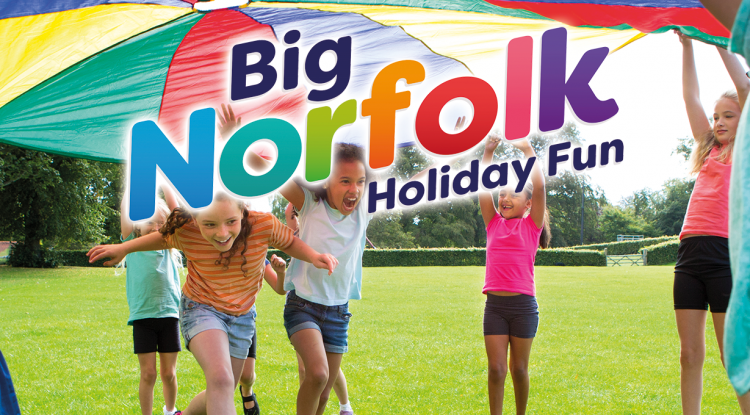 News: We're running a free transport pilot in Norwich
Special news for Norwich
We are running a small pilot in Norwich for children to get free First bus tickets to help overcome any barriers travel costs may bring.
If you think you know of a student who may benefit, please contact [email protected] for more information.
---
Tools to promote the programme
Below are the things you might like to use to help promote the programme.
The Big Norfolk Holiday Fun toolkit contains editable flyers, posters and social media posts you can use on Twitter and Facebook.
The regional activity catalogues show all the available activities per area. It may be helpful to print these off for parents to showcase what's on offer.
---
Not running or hosting an event? Help us spread the word this winter!
We can offer the following materials printed and delivered for free to schools.
The summer deadline has now passed, but you can register your interest to receive the following in time for the winter Big Norfolk Holiday Fun programme:
Printed A5 flyer: for schools not hosting or running an event
A vinyl banner for outside school: for schools not hosting or running an event
Simply fill in the form below to request these for the winter Big Norfolk Holiday Fun programme, and help us to spread the word!
---
Got further questions? Get in touch
If you need help with anything listed above, get in touch with our team below. Please note, we get a lot of queries as we approach the programme's start date but we will aim to get back to you as soon as possible.
Big Norfolk Holiday Fun Team
Our team will aim to get back to you with any queries as soon as possible.